Booking
There are two methods available for booking Rimscout: using the Rimscout website (recommended) or subscribing to a SaaS offer on the Azure Marketplace.
Booking via the Rimscout website
Booking Rimscout through the Rimscout website involves filling out a form to request a matching offer. Once accepted, a new tenant will be created for you and you will receive regular billing based on your chosen payment frequency.
Visit the Rimscout website: Go to rimscout.com/pricing to access the Rimscout booking page.
Fill in the price request: Provide your contact details and specify your desired plan for Rimscout.
Submit the request: Once you've filled in the form, click on the submit button to send it to the Net at Work sales office.
Receive your offer: The Net at Work sales office will send you a suiting offer via email.
Sign and return the offer: Review the offer, sign it and send it back to Net at Work.
Access to Rimscout: Once your offer is signed, a new Rimscout tenant will be created for you. Details will be provided via email.
Billing: You will start receiving bills for Rimscout usage, either on monthly or annual basis, depending on your selection.
Info
If there are any questions or issues in the booking process, contact salesoffice@netatwork.de
Booking via the Azure Marketplace
Alternatively, you can book Rimscout by subscribing to the Rimscout SaaS offer on the Azure Marketplace.
Requirements
To book Rimscout via the Azure Marketplace, you need
Azure subscription (verify if you have a subscription or get a subscription)
Azure AD account with at least Contributor role for the Azure subscription
Verify you have an Azure subscription
To verify that your Azure AD account has an Azure subscription, login to https://portal.azure.com.
If your account does not have a subscription you will see the page below.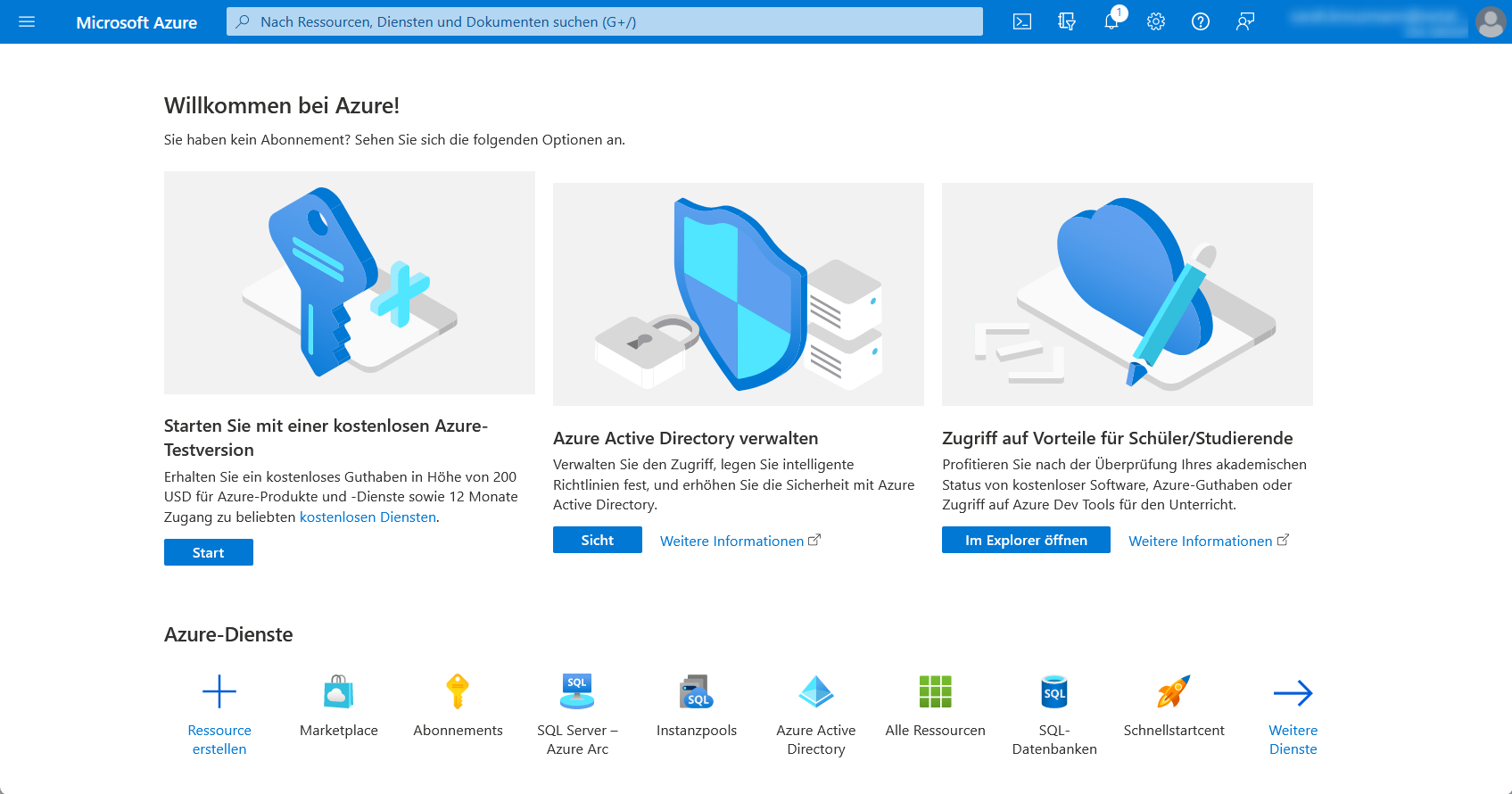 Book Rimscout in Azure
Go to the Azure Marketplace via this link.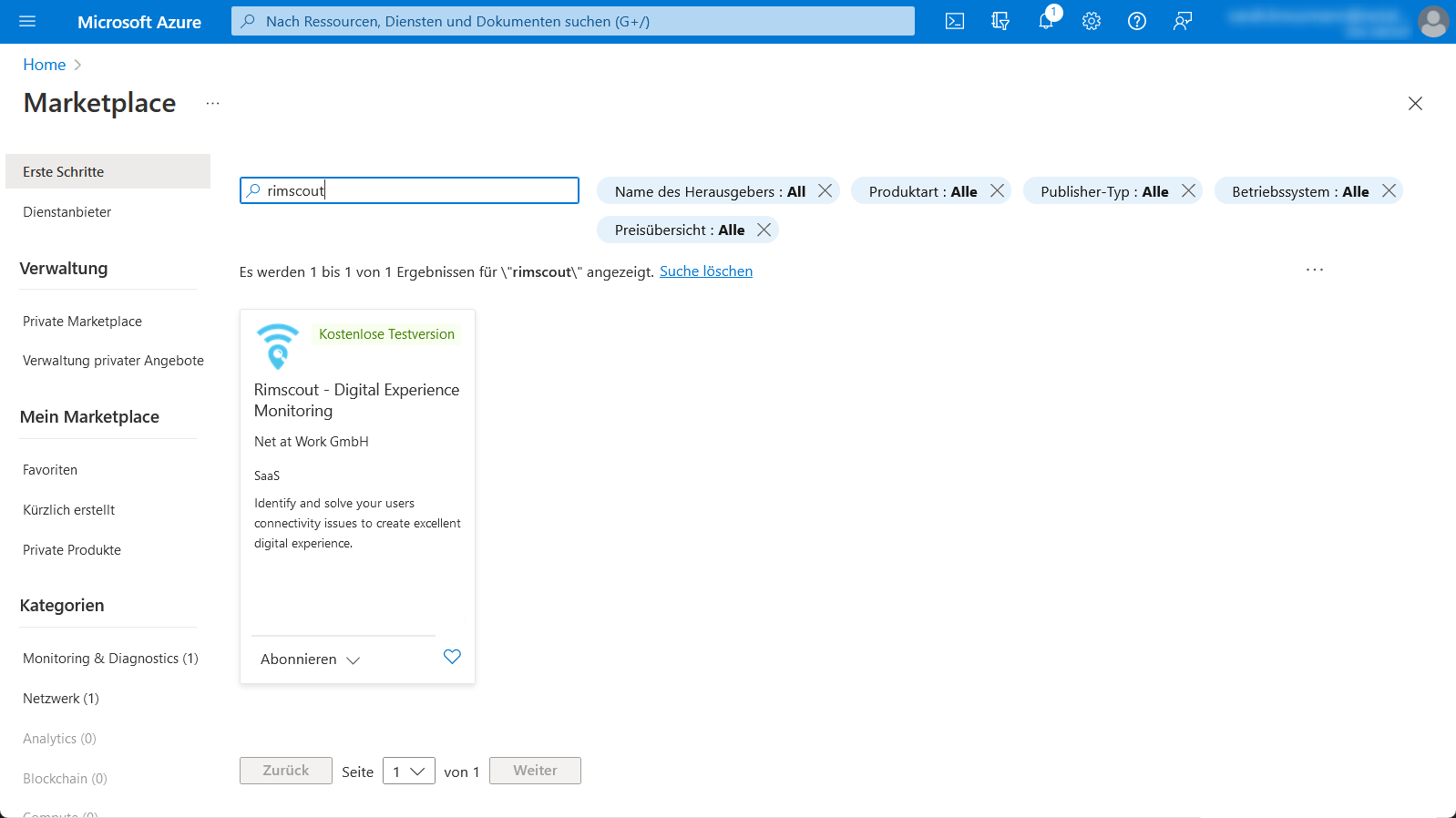 Next choose a plan and click Subscribe (dt. Abonnieren).
Info
The Foundation plan includes a free trial for the first month.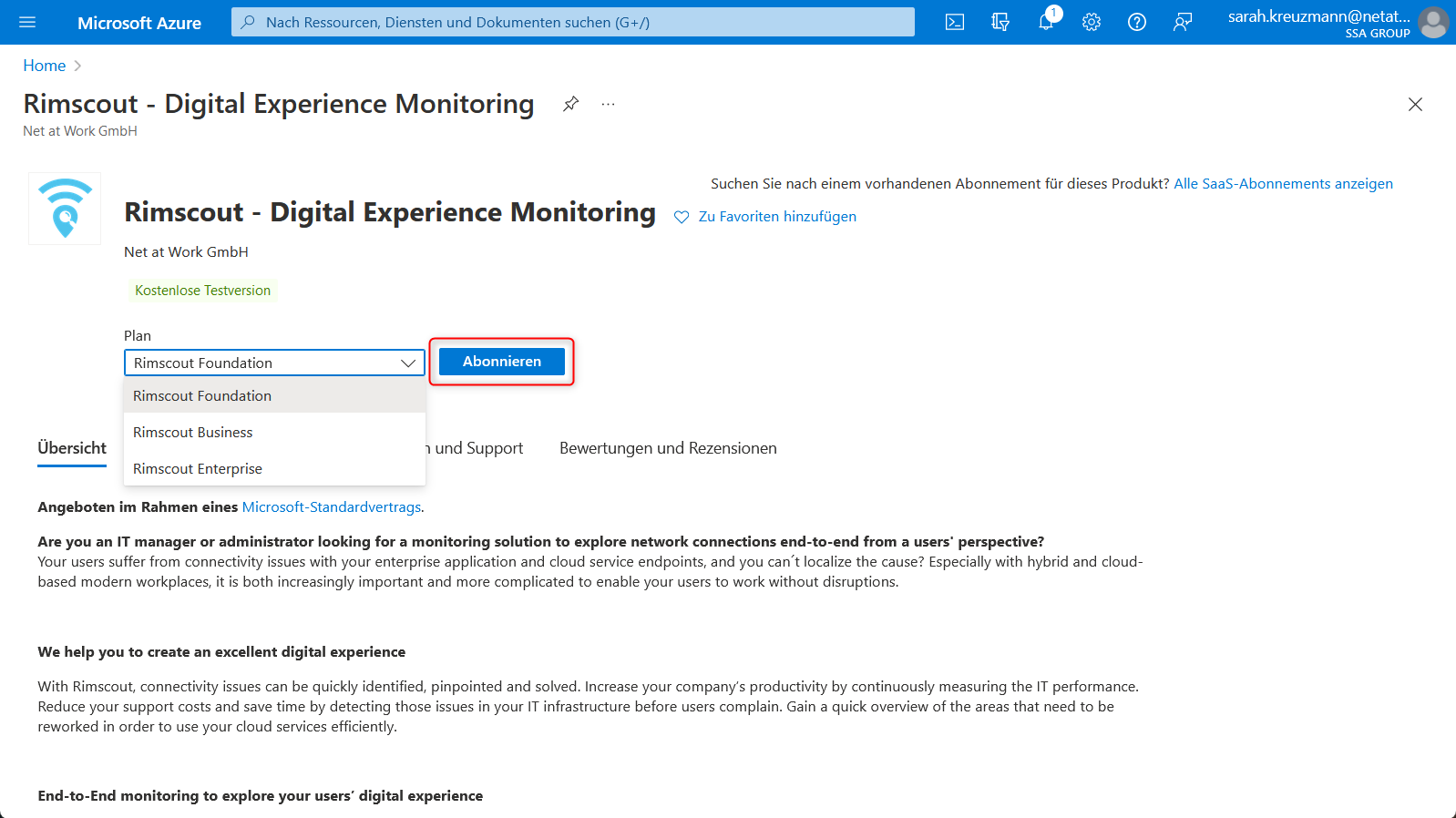 You are redirected to the subscription page where you provide the plan details:
Choose your Azure subscription.
Choose a resource group in your subscription or create a new one.
Provide a unique name for the created Azure resource.
Verify that you selected the correct plan.
Decide whether to pay per month or per year.
Set recurring billing to On. Otherwise your subscription is cancelled after one billing term.
Click Review + subscribe.
Verify your plan details and click again Subscribe (dt. Abonnieren).
Wait until the SaaS subscription creation is complete. Then click Configure account now to complete your subscription.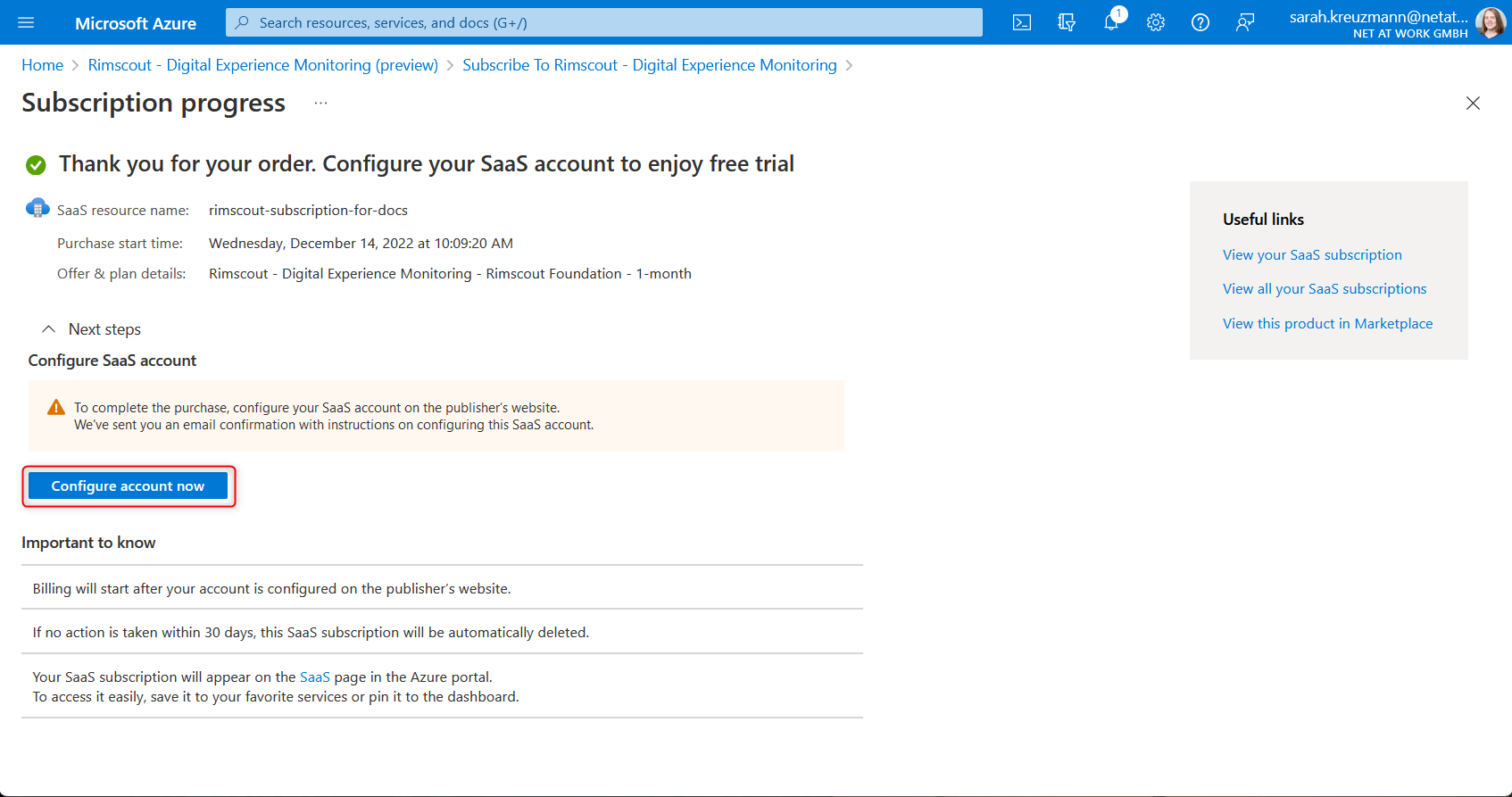 You are redirected to the configuration page. Fill out information about you and your company and provide information for your Rimscout tenant.
Click Subscribe to finally complete your subscription.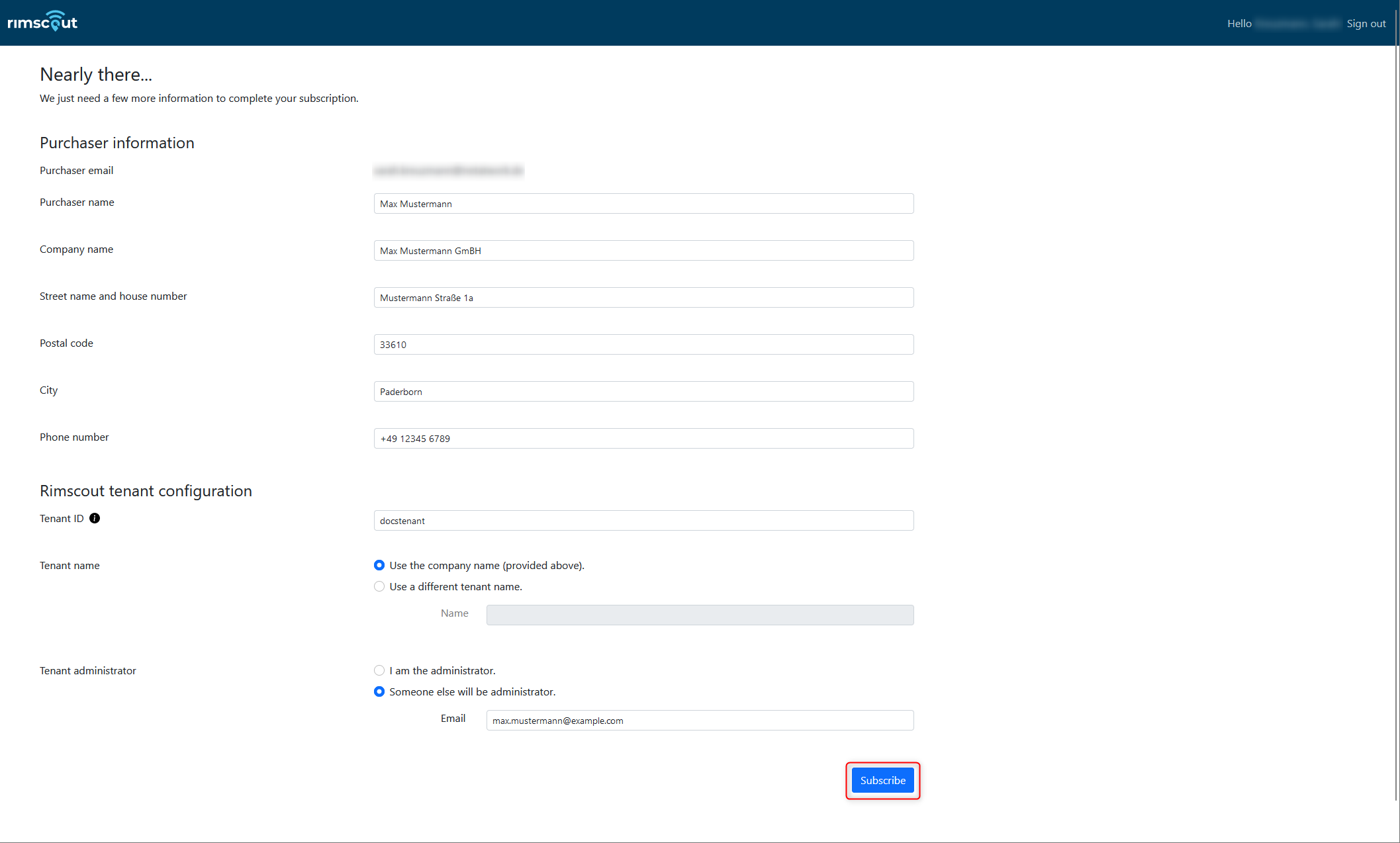 Your Rimscout subscription is now complete. The access to Rimscout and all further information will be provided to you via email.
If you have any questions regarding the Rimscout setup please contact support@rimscout.com.
Get an Azure subscription
There are many different Azure subscriptions. They differ mainly in their payment options and included features.
Azure pay-as-you-go subscription
Azure provides the pay-as-you-go subscription. You must provide a credit card as payment option. You are only billed for any non-free resources that you create and use in that subscription. Therefore the subscription itself is free.
You can create such a subscription e.g. here: https://azure.microsoft.com/de-de/free/.
Net at work pay-as-you-go subscription
Net at Work as a Cloud solution provider offers an Azure subscription which is basically the same as the Azure pay-as-you-go subscription. The only difference is in the payment. Net at Work invoices you for all costs incurred on the Azure subscription.
If you are interested in such a subscription, write a mail to support@rimscout.com and provide us the following information:
Your full name
Your phone number
Name of your company
Other Azure subscription
There are many other Azure subscriptions that include support plans or other features. Any Azure subscription will generally work if one wants to subscribe to Rimscout.